College of Natural Resources
Graduate Virtual Open House
Discover how the College of Natural Resources can help you take your career to the next level.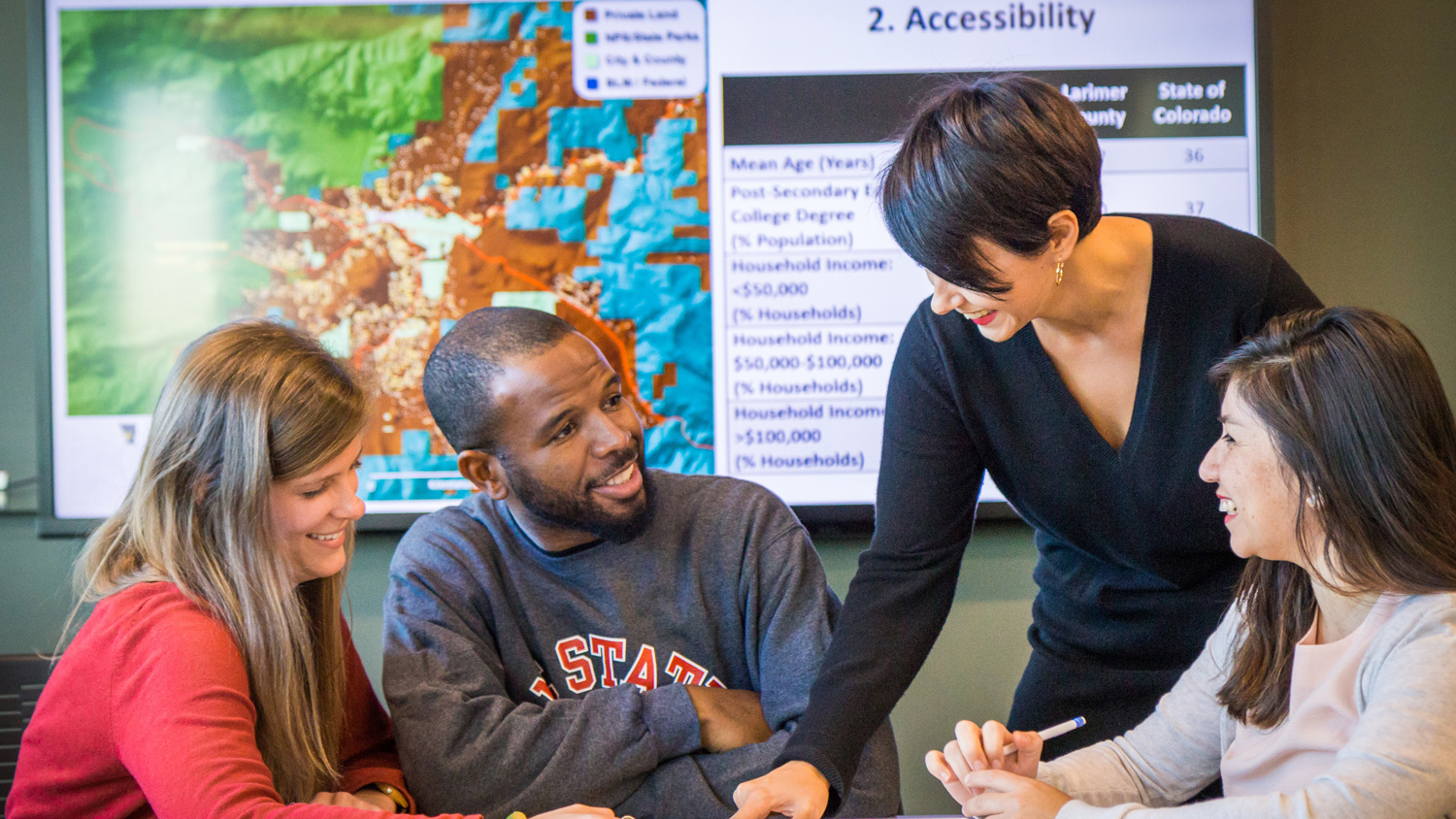 Explore the Graduate Student Experience
The NC State College of Natural Resources is hosting its 2020 Graduate Student Virtual Open House from 4 to 6:30 p.m. EST on Tuesday, Dec. 1, and Wednesday, Dec. 2. Join us to explore what graduate school can do for you. Discover why our faculty and students are recognized worldwide for their innovative research in forest biomaterials, forestry and environmental resources, geospatial analytics and parks, recreation and tourism management. 
We welcome all prospective students interested in on-campus research and obtaining a master's degree or Ph.D., working professionals seeking an online master's degree or graduate certificate and seniors in undergraduate programs.
Through various virtual sessions, you will have the opportunity to:
Get Informed
Learn about the admissions process and our graduate student experience.
Explore Research and Funding
Discover our research areas and funding opportunities.
Get Connected
Meet our faculty experts and current students and network with attendees.
Open House Schedule
Tuesday, December 1, 4 p.m. – 6:30 p.m.
EST
Day 1: Overview and Student Experience
Get an overview of our programs, along with insider tips on the application process. Hear about the student experience from traditionally underrepresented populations, in addition to navigating full-time work and/or parenting during graduate school.
Wednesday, December 2, 4 p.m. – 6:30 p.m. EST
Day 2: Admissions, Department Research, Faculty and Students
Learn about each graduate program in the College of Natural Resources. You'll have the opportunity to connect with faculty and current students and learn more about the admissions process for specific programs, including online-only and professional master's degree programs.
View the full event schedule with session and presentation details.
Cost and Registration
To register,  fill out this form. This event is free of charge.
Top Energy University 2020
#1 in North Carolina and #4 in the nation
$373 million Awarded Annually
#1 Best Value
NC State is ranked number one among North Carolina universities for the value of its education. Our online programs in graduate education rank 4th in the nation.
Need more information or have a question?
Contact cnrrecruitment@ncsu.edu.
Interested, but can't attend?
Join our mailing list to receive more information about our programs and other upcoming events and visit opportunities.
Our Graduate Degrees
Students pursuing graduate degrees from the College of Natural Resources are prepared to make significant contributions to society worldwide. They become faculty members, policymakers and professionals working as researchers and managers in higher education, business, industry and government.
Center for Geospatial Analytics
        Ph.D. in Geospatial Analytics
        Master of Geospatial Information Science and Technology (online, non-thesis)
        Certificate in Geographic Information Systems (online)
Forest Biomaterials
        Master of Science in Forest Biomaterials
        Master of Forest Biomaterials (non-thesis)
        Master of Forest Biomaterials (online-only)
        Ph.D in Forest Biomaterials
Forestry and Environmental Resources
        Master of Forestry (non-thesis)
        Master of Science in Forestry
        Ph.D. in Forestry and Environmental Resources
        Master of Natural Resources (non-thesis)
        Master of Science in Natural Resources
        Master of Environmental Assessment (online-only)
        Master of Fisheries, Wildlife, and Conservation Biology (non-thesis)
        Master of Science in Fisheries, Wildlife, and Conservation Biology
        Ph.D. in Fisheries, Wildlife, and Conservation Biology
        Certificate in Environmental Assessment
        Certificate in Renewable Energy Assessment and Development
Parks, Recreation and Tourism Management
        Master of Science in Parks, Recreation and Tourism Management
        Master of Science in Natural Resources
        Master of Natural Resources (non-thesis)
        Ph.D. in Parks, Recreation and Tourism Management
        Certificate in Sport and Entertainment Venue Management