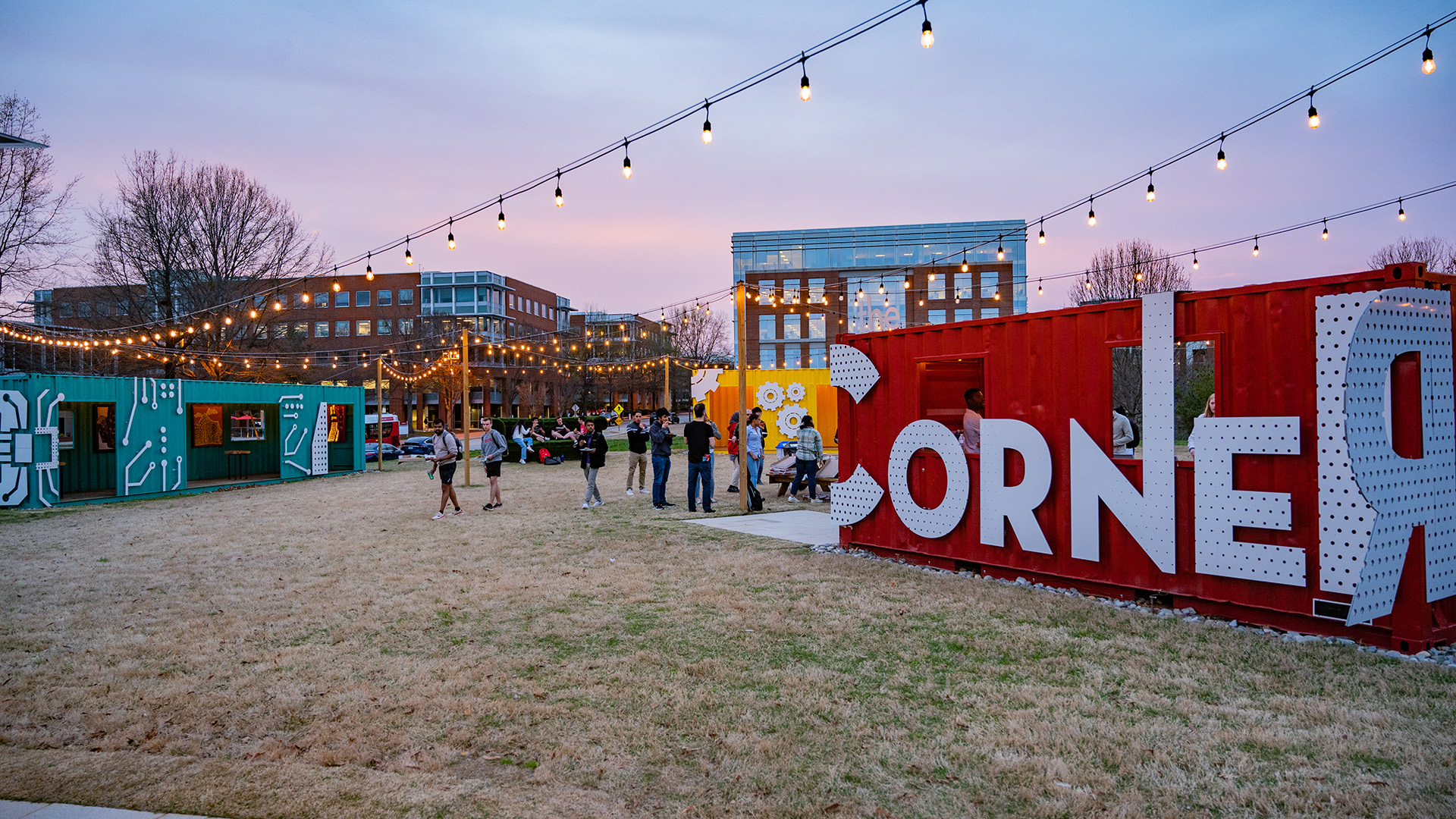 The Corner
Centrally located on NC State's Centennial Campus, The Corner is a shared community space built for creative collisions.
Where Centennial Comes Together
Bright minds come to our Centennial Campus every day — crossing paths in workplaces, classrooms, labs and lunch spots — and The Corner is a social hub that brings them all together.
Fixed around a constellation of four repurposed shipping containers, the open-air space is designed for gathering, collaborating and socializing. (Just another example of our campus combining function with beauty.) And everyone is welcome: Centennial Campus partners and tenants; NC State students, faculty and staff; and the wider community of Raleigh and Research Triangle Park.
If you're looking for a place to tackle some work, kick back with friends, connect with your team or student group, check out campus events or even host a program of your own, The Corner is for you.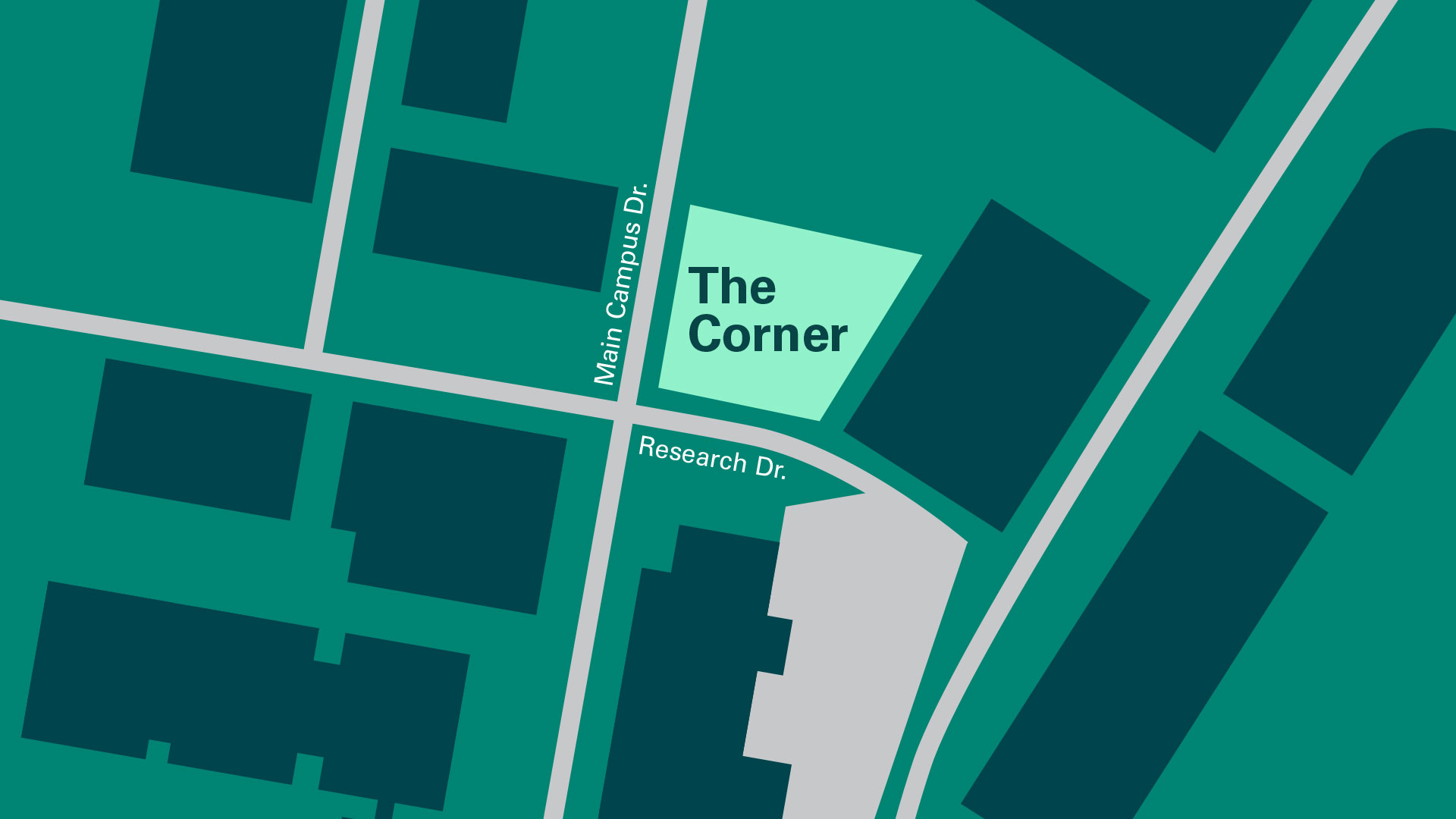 Visit the Corner
The Corner is located on 941 Main Campus Drive, at the intersection of Main Campus Drive and Research Drive. (A field of brightly colored shipping containers? We promise you can't miss it.) Visitors can drop by any time, and the lawn's string lights will be turned on during evening hours.
Can I bring outside food or drinks?
Yes, you're encouraged to bring over a drink or a bite. (In fact, food trucks are often parked right across the street!) Just one thing: Alcoholic beverages are not permitted unless served during an approved event.
What should I do with my trash?
The Corner furthers NC State's sustainability commitment with everything from its recycled shipping containers to the furniture inside that is repurposed from university trees. It's also a low-waste area, which means there are no trash receptacles. Don't worry, you can still find them in the surrounding area. But made simple: Whatever you bring into The Corner, please carry it back out with you.
Take a Look Around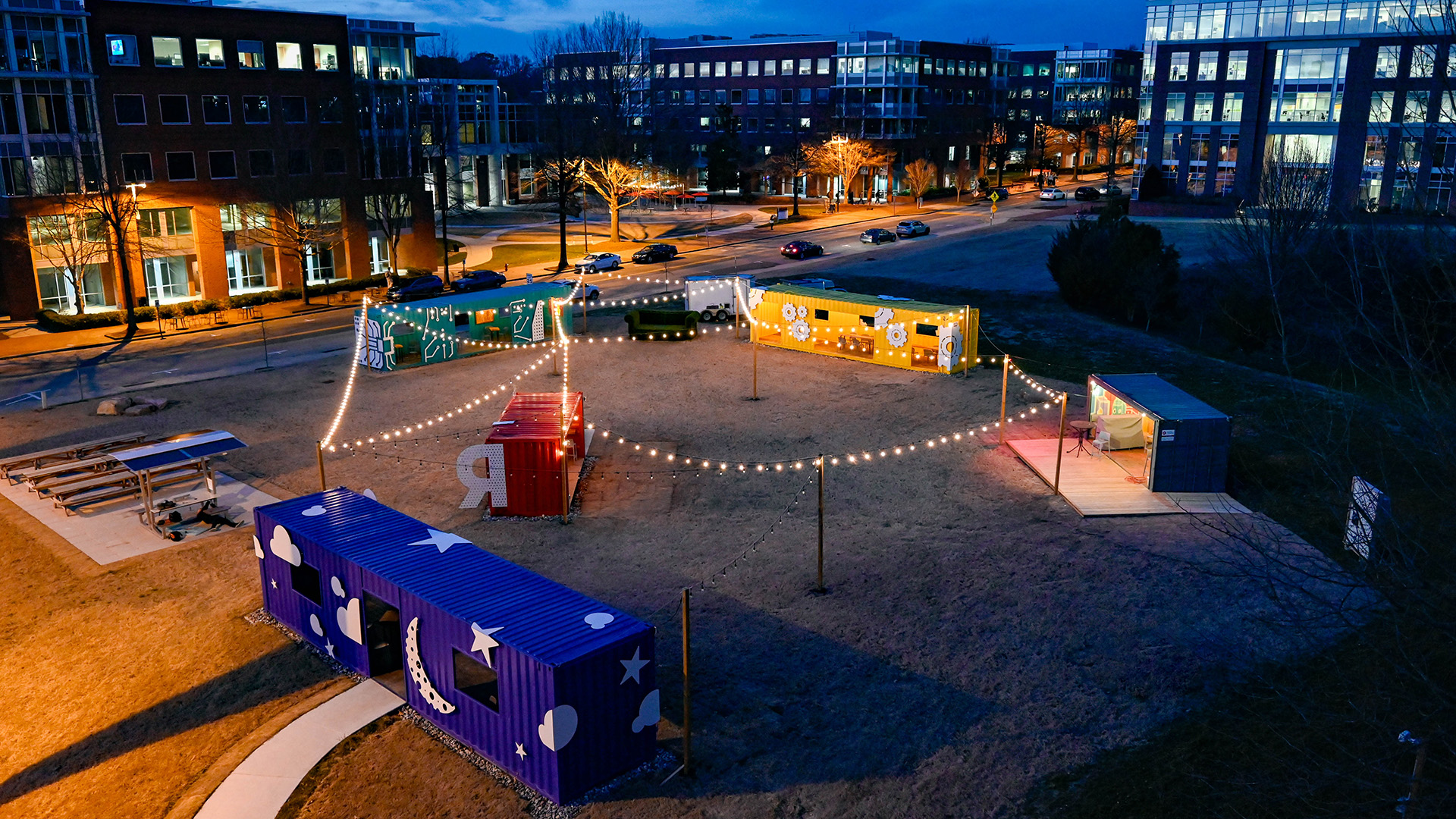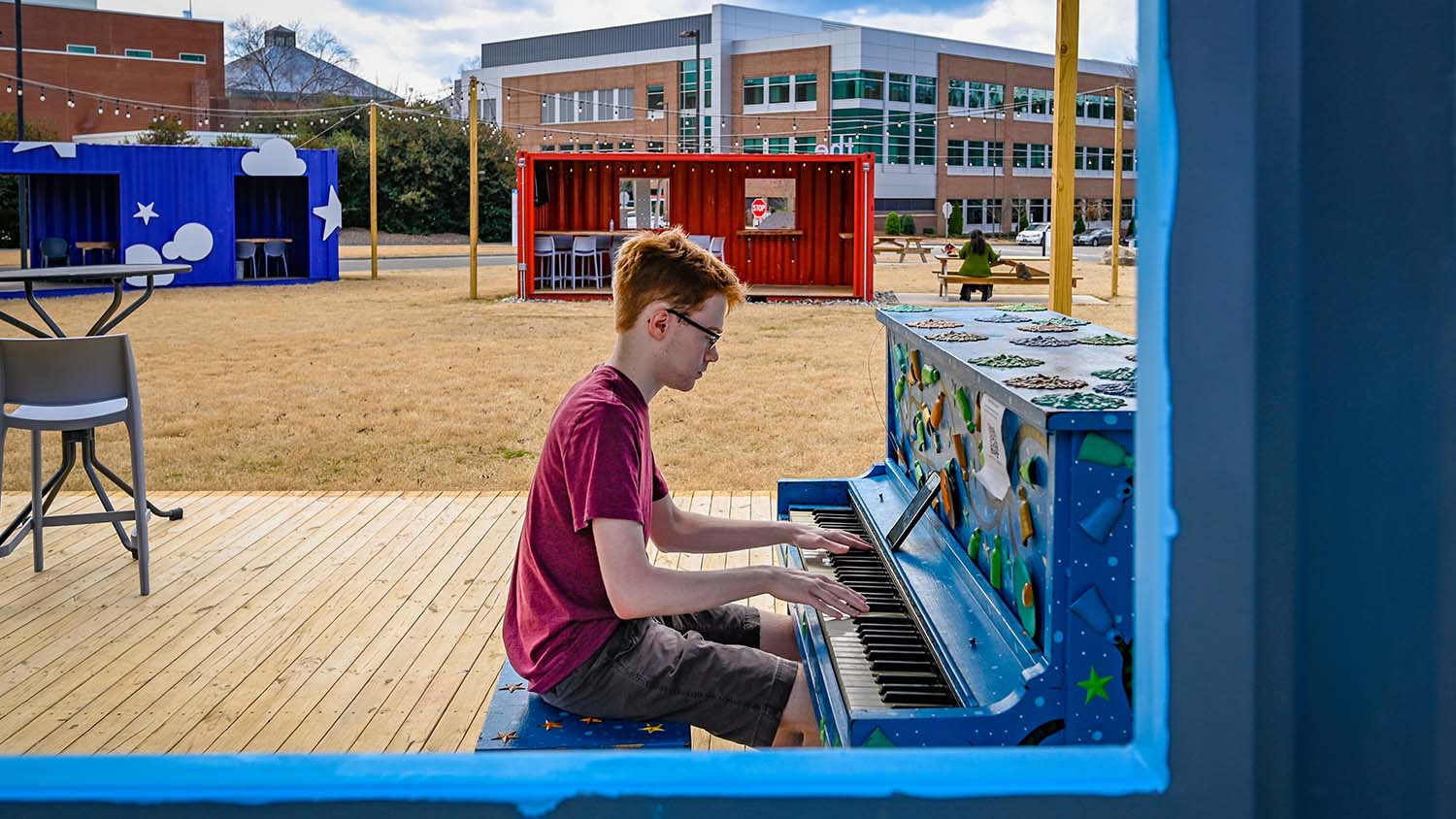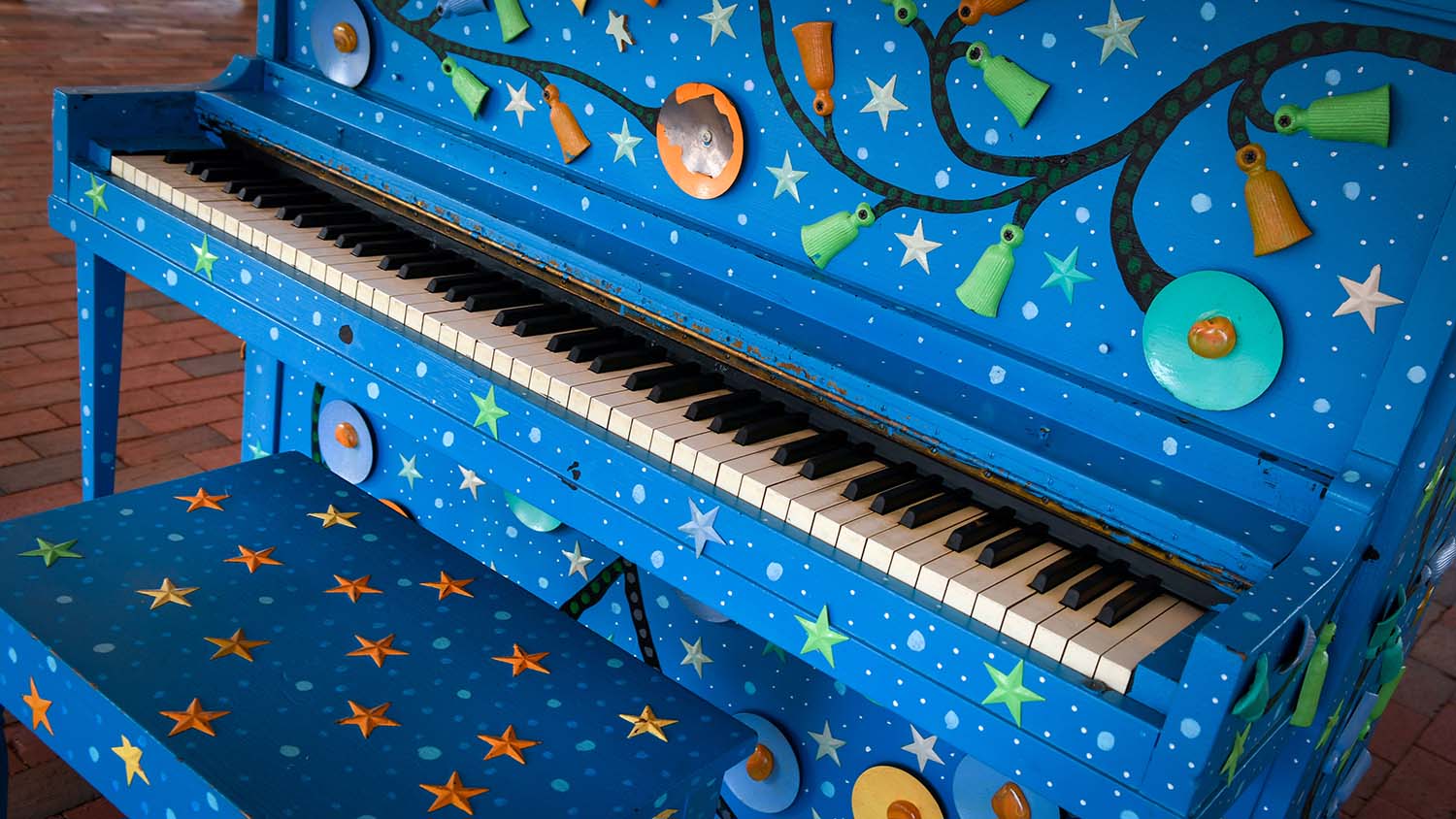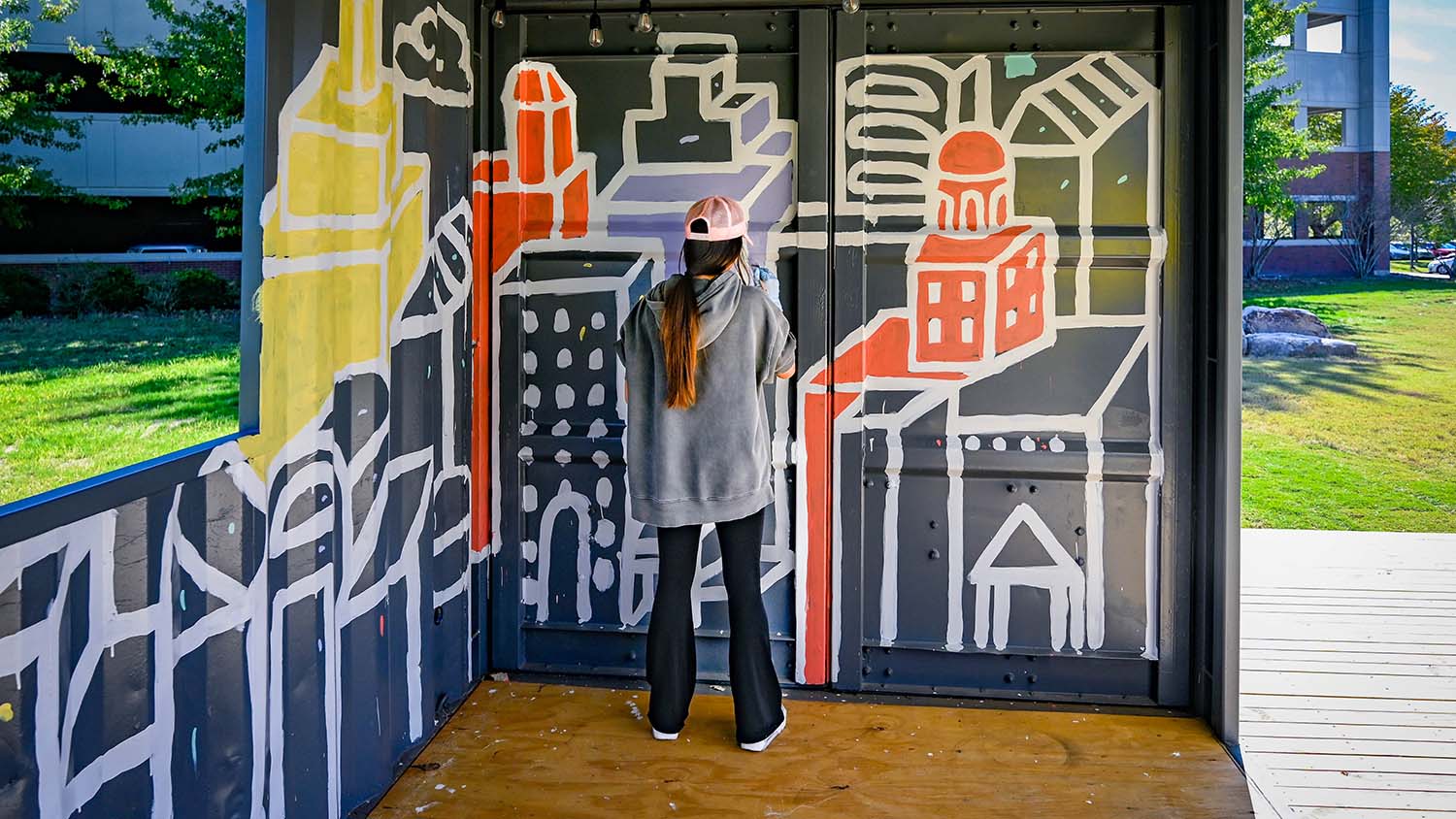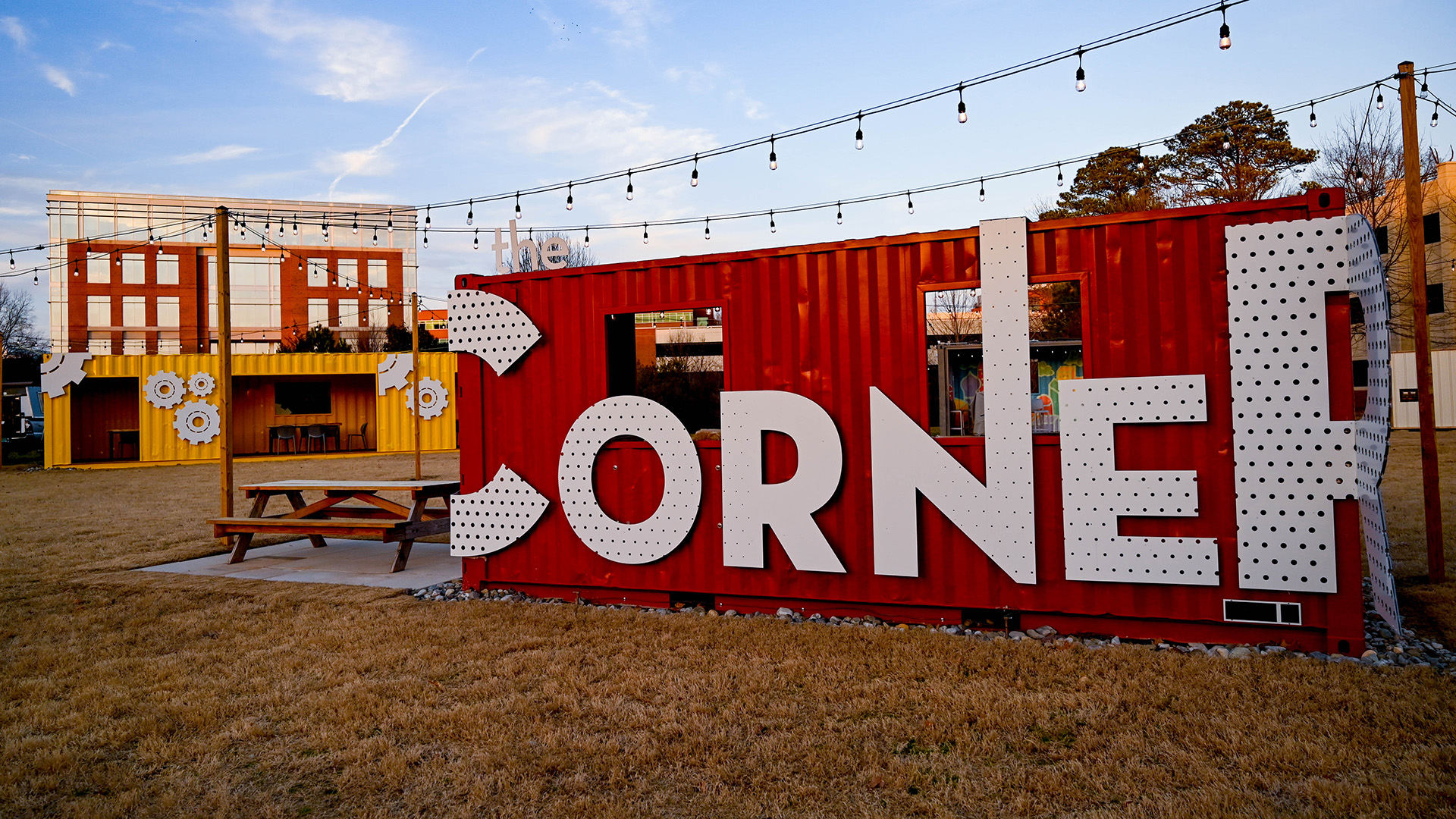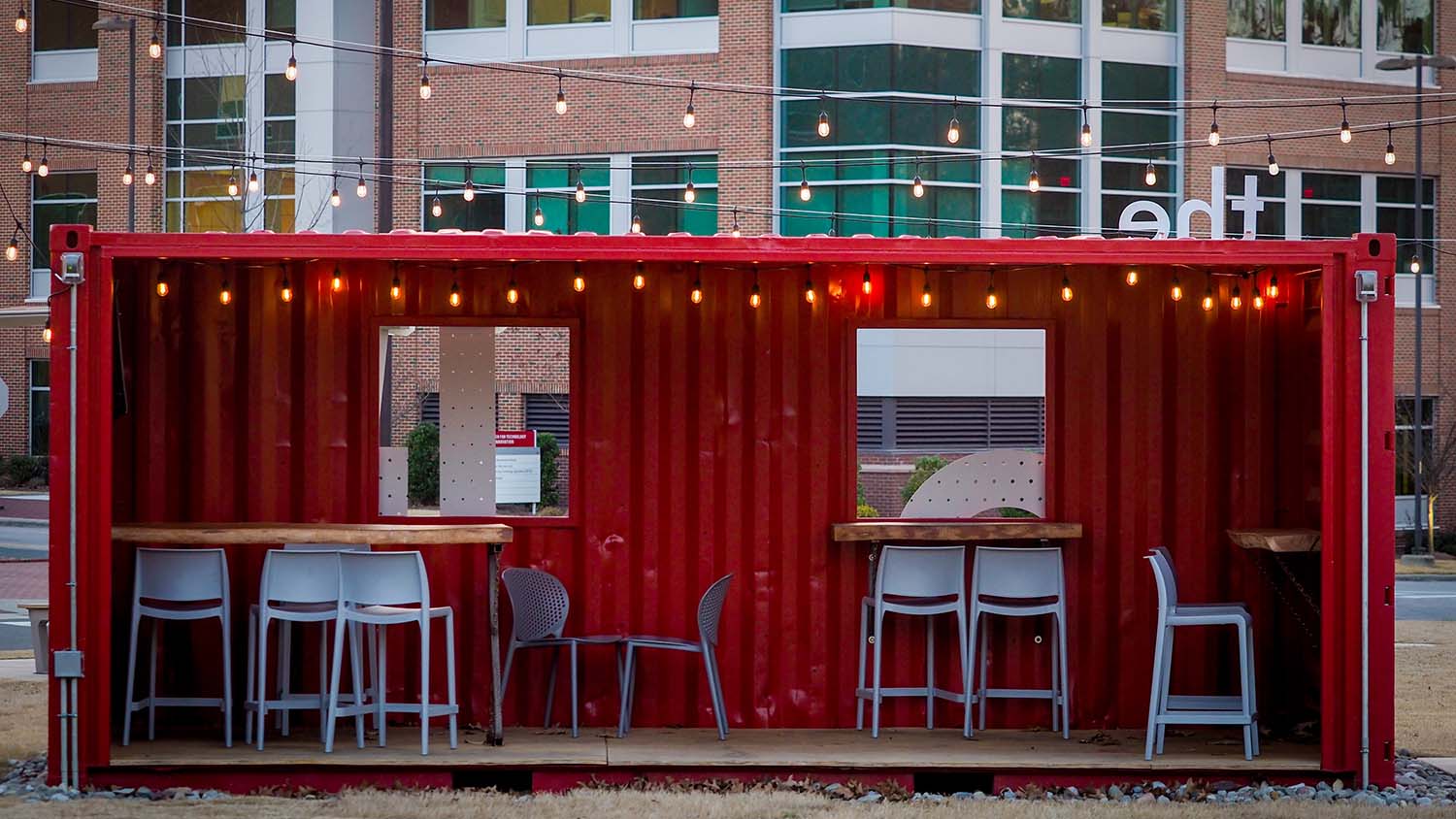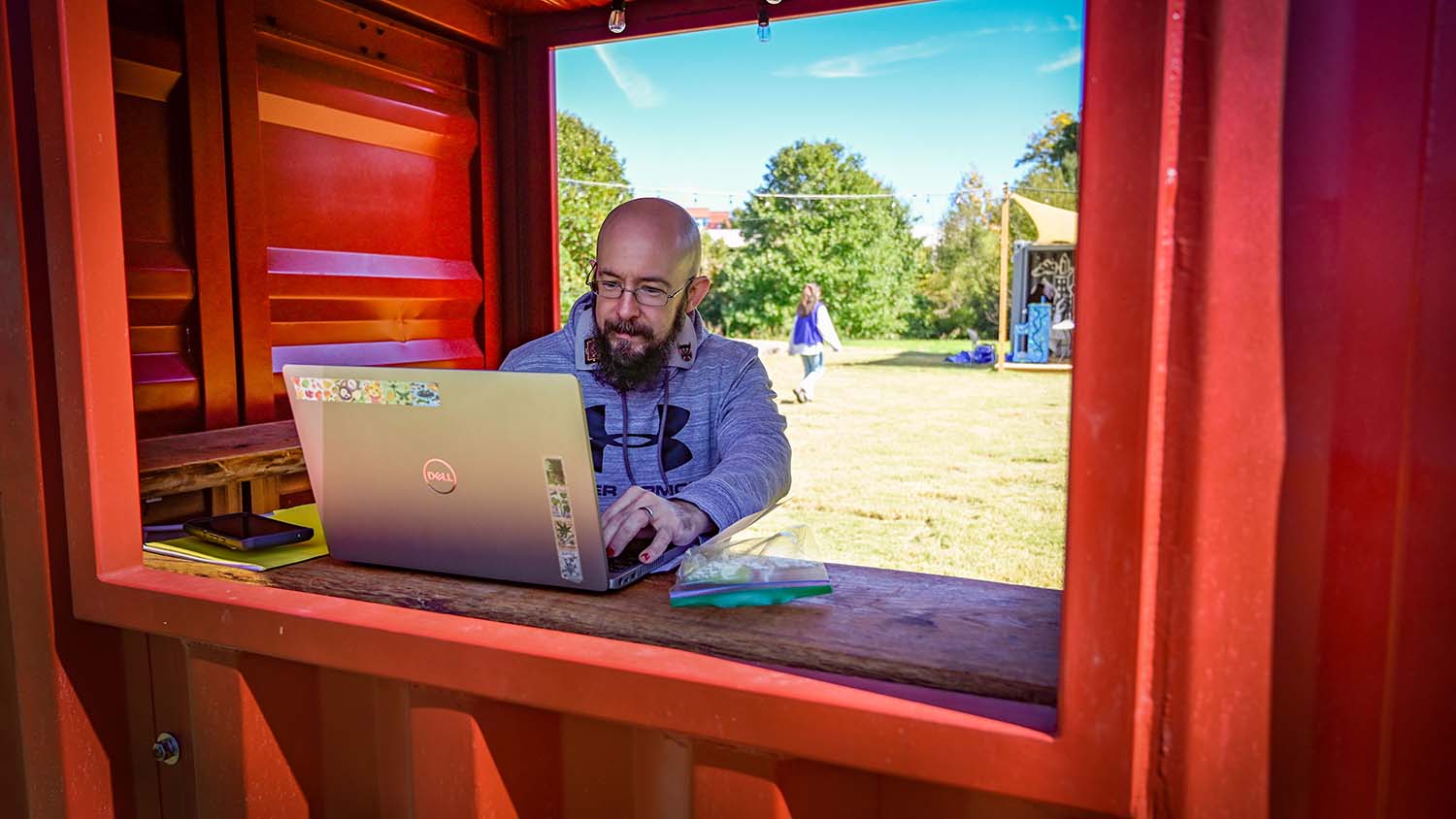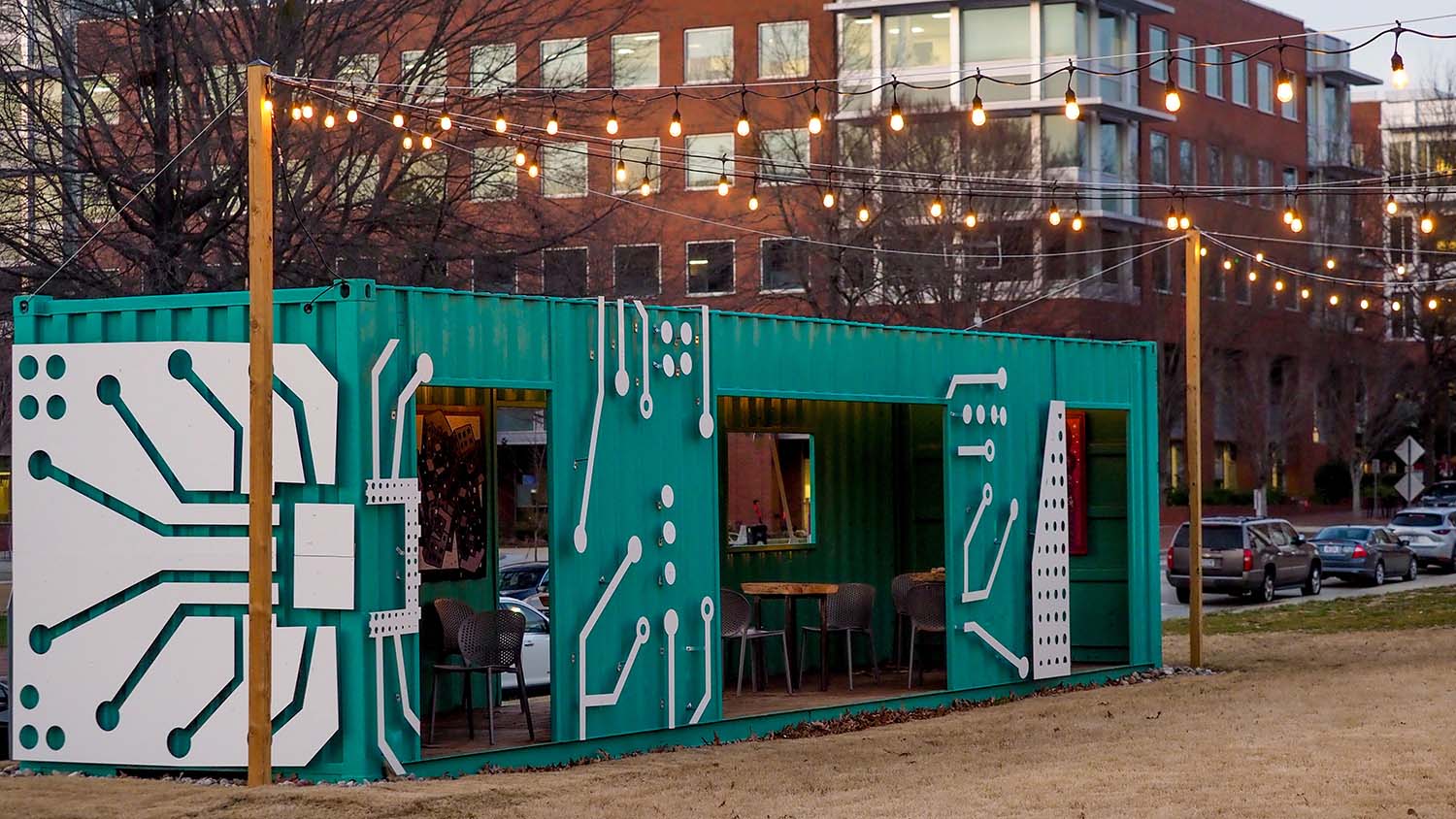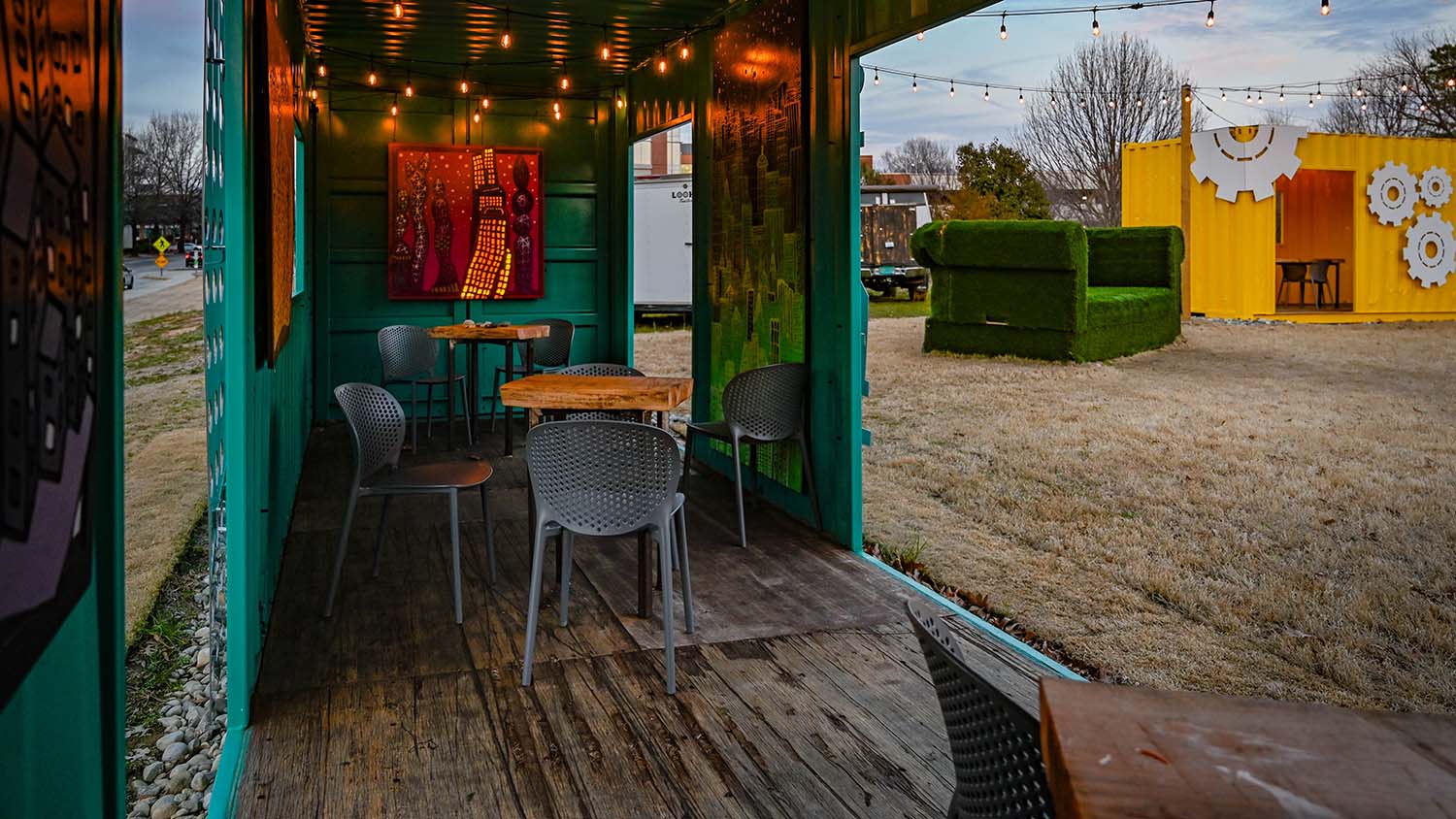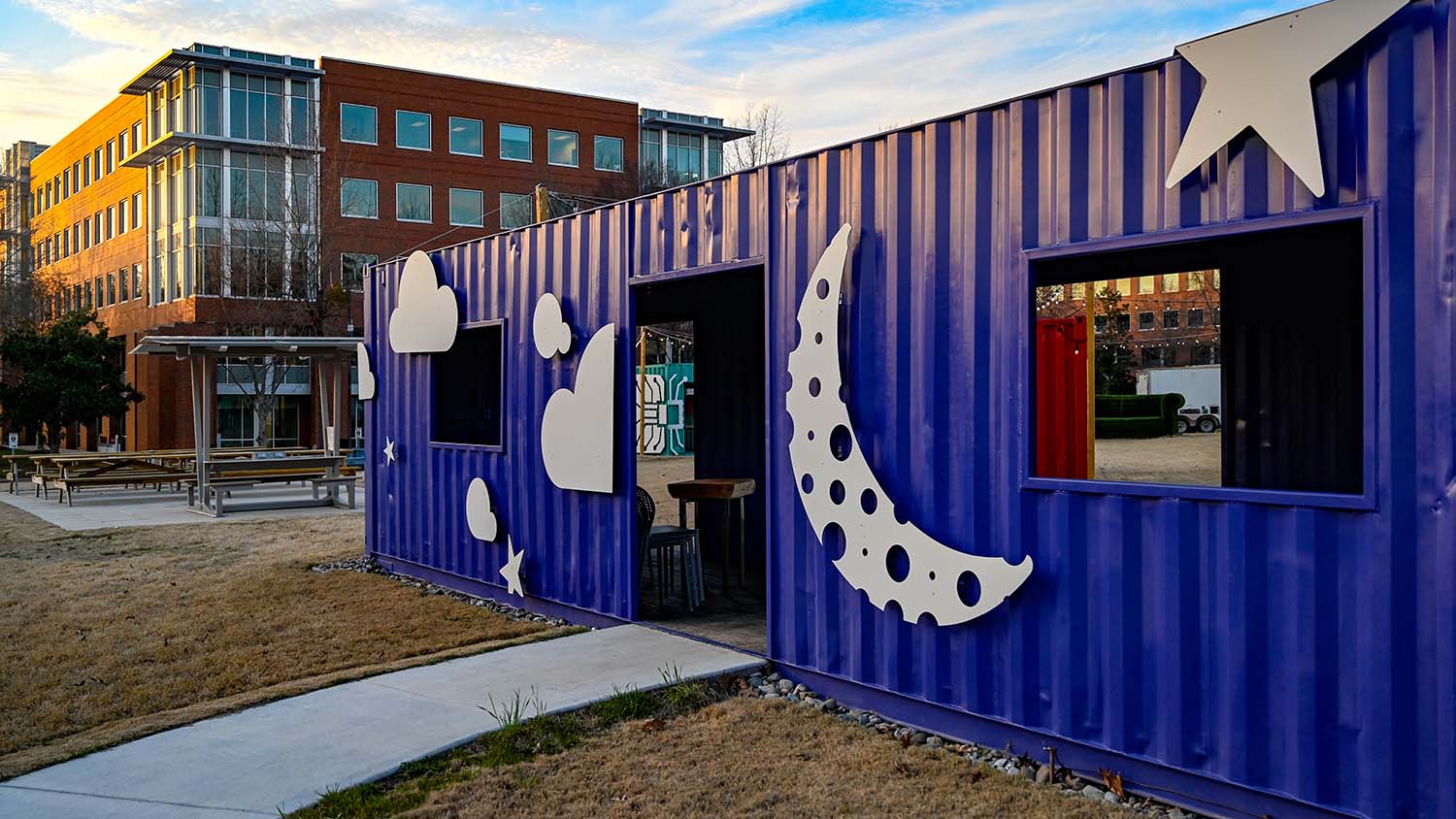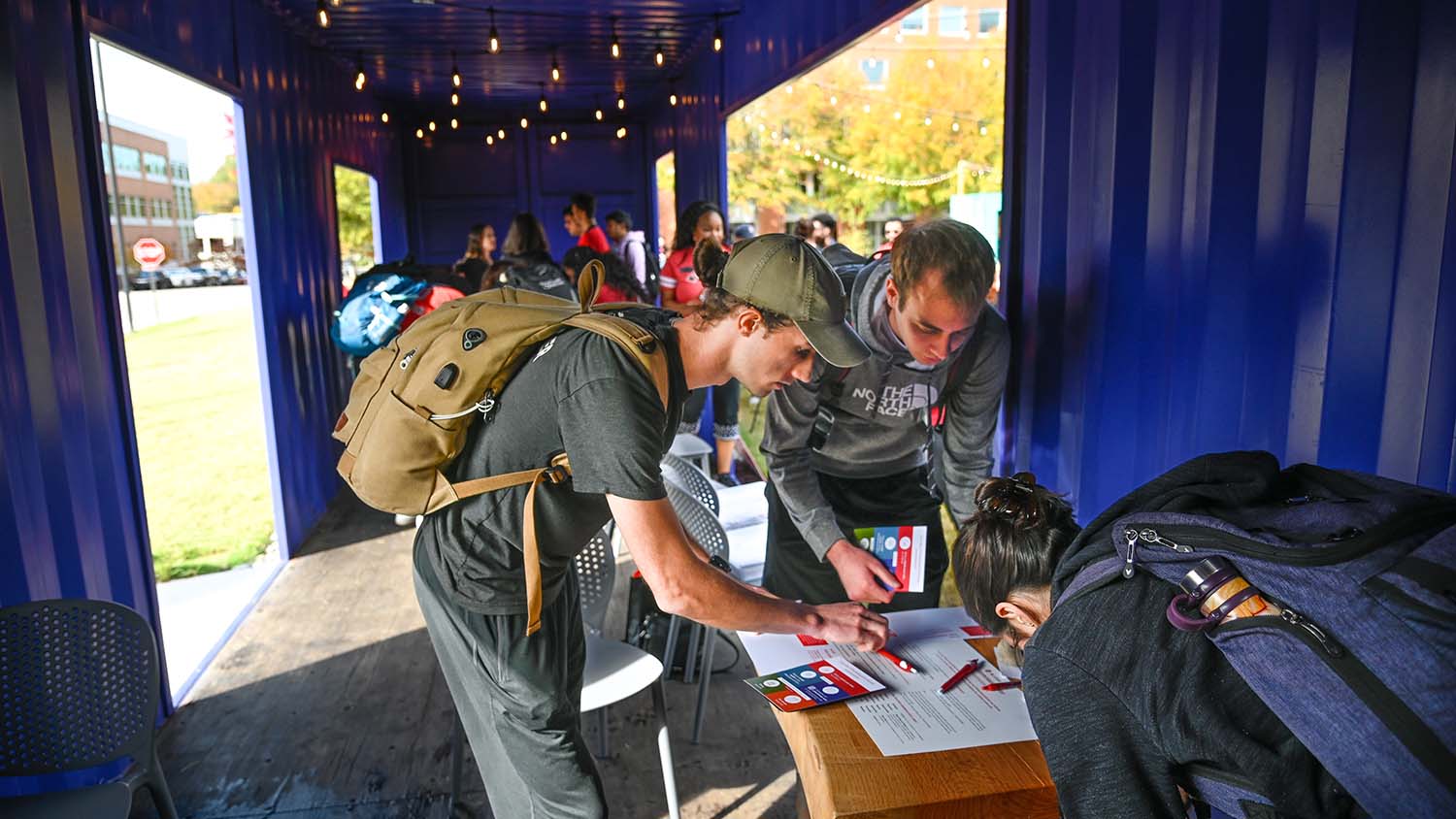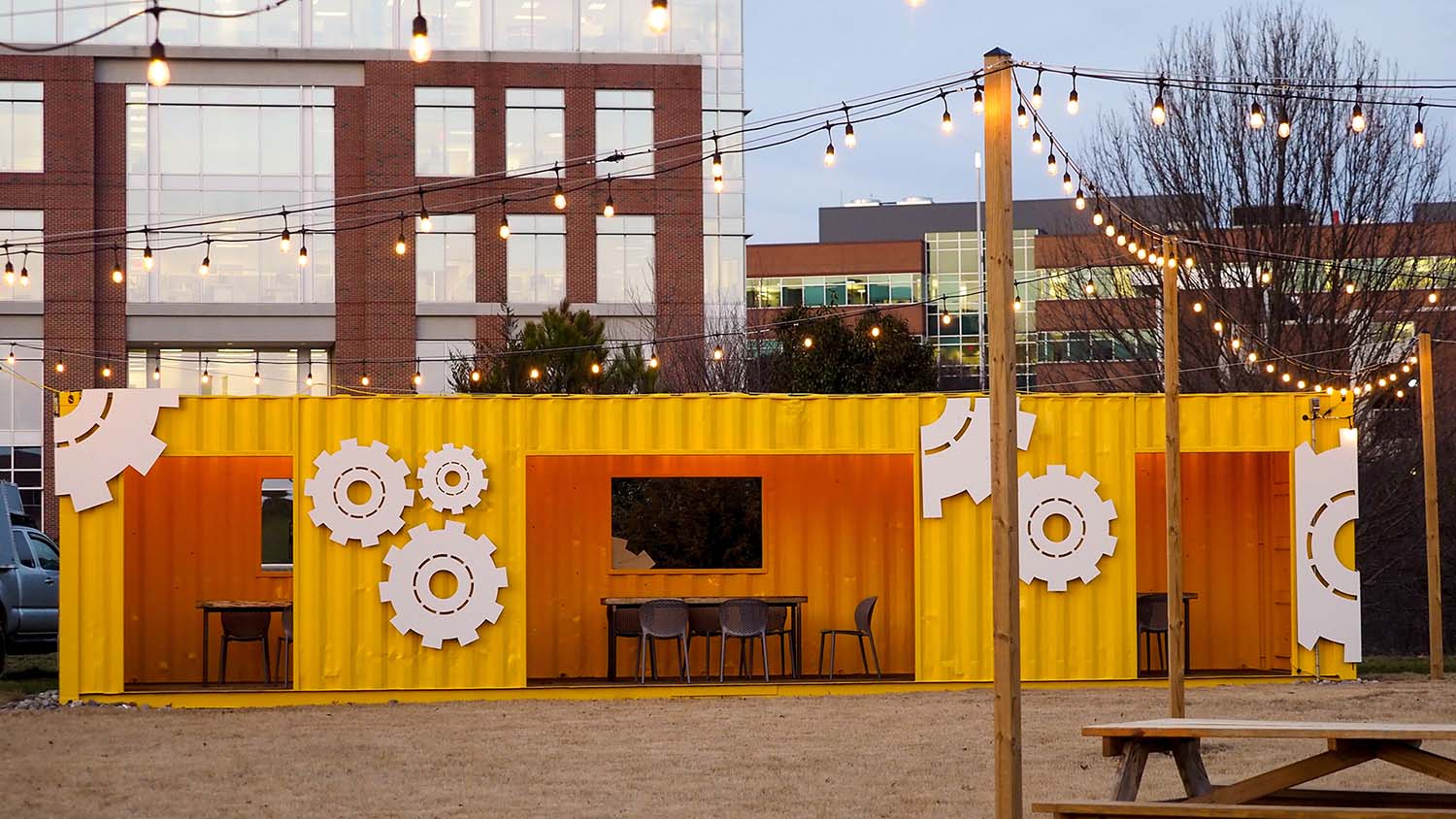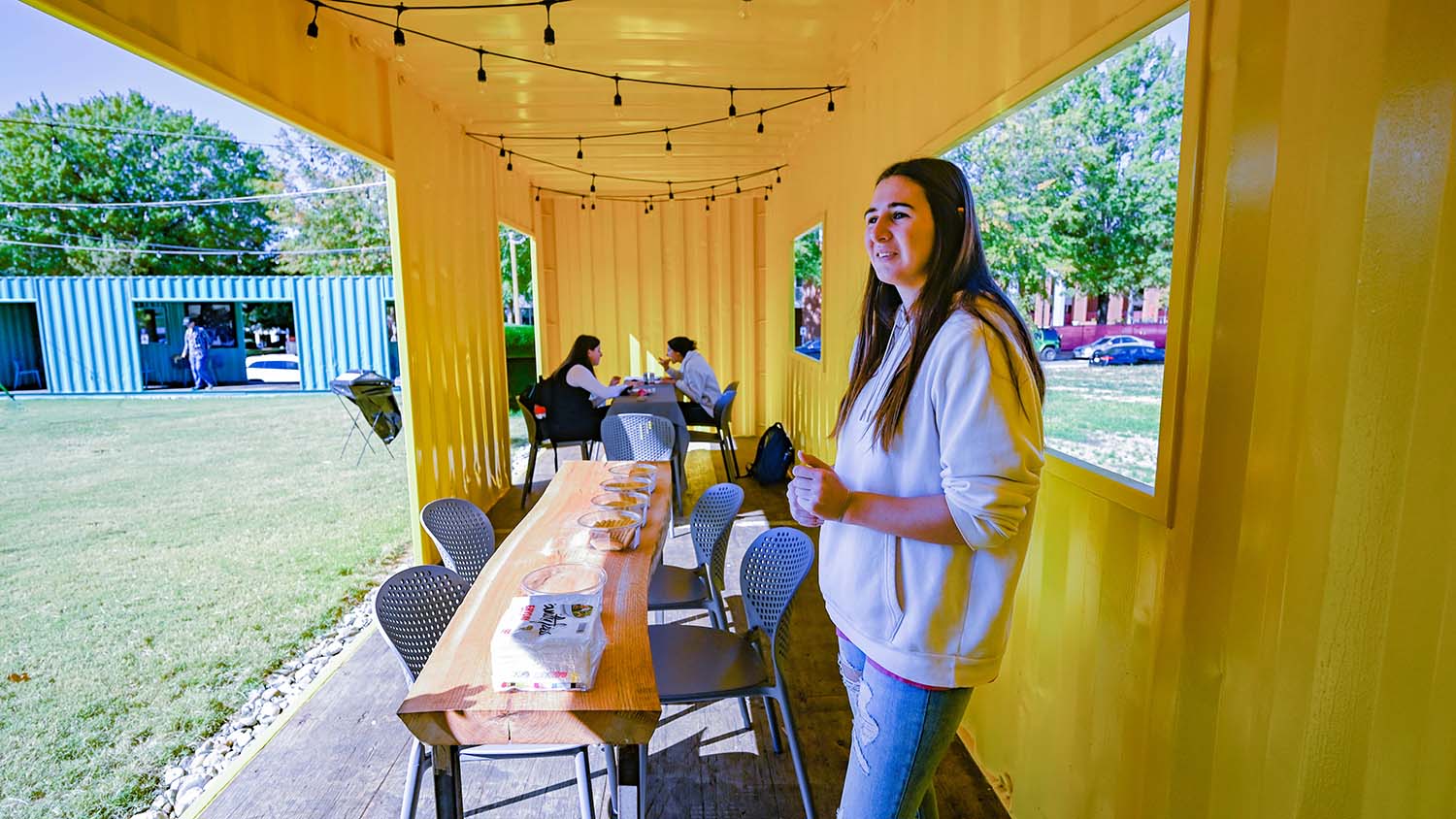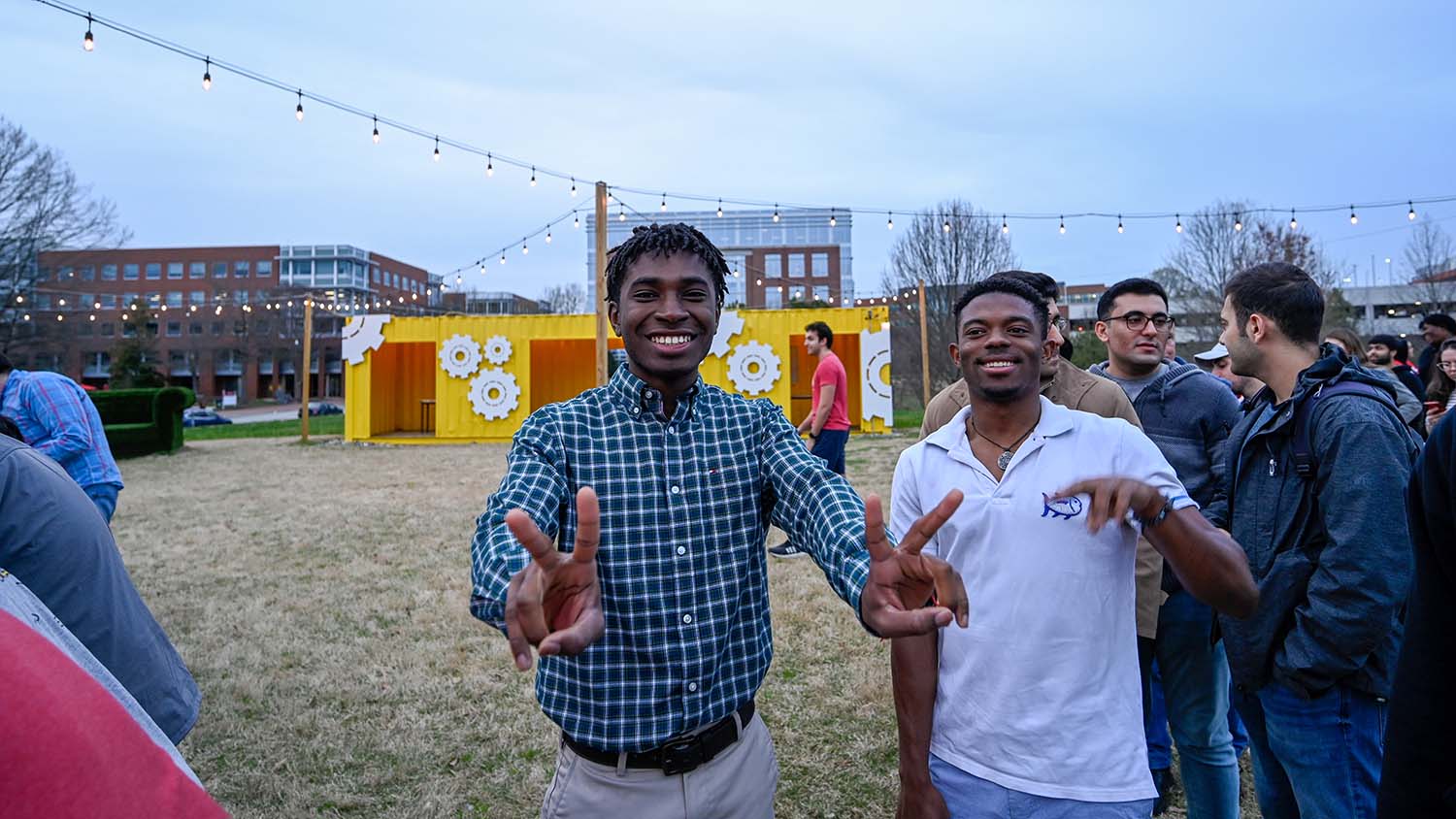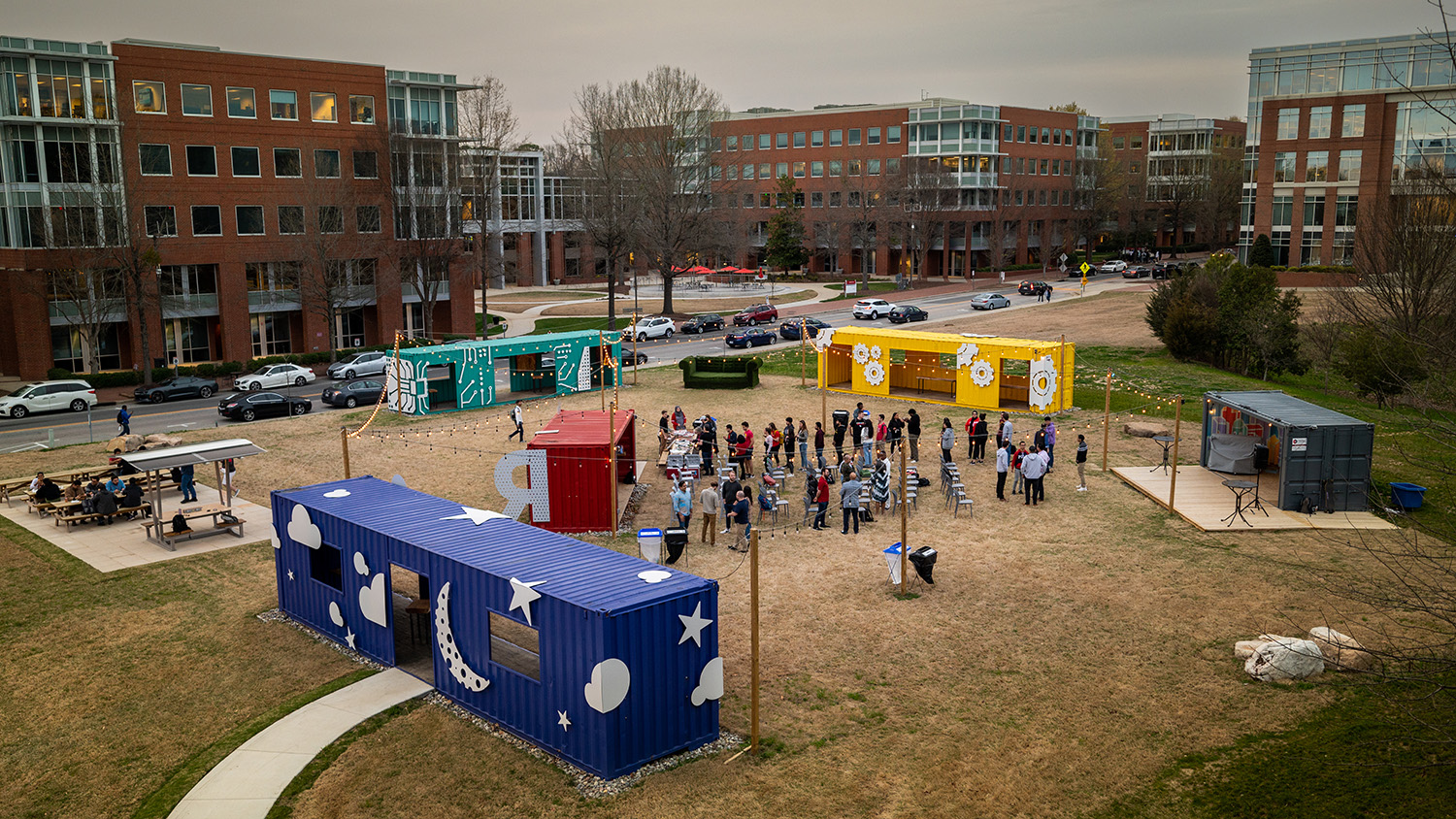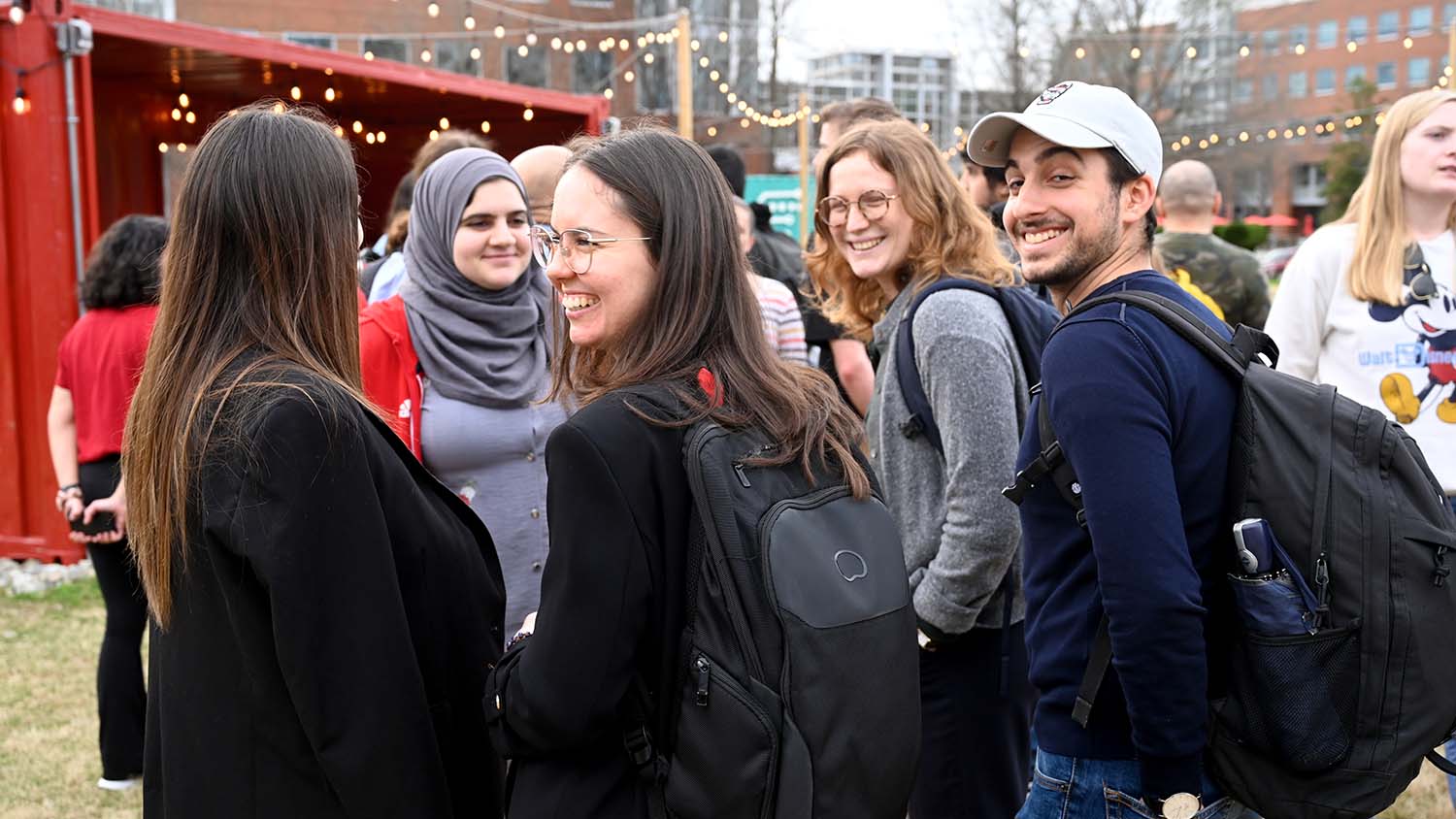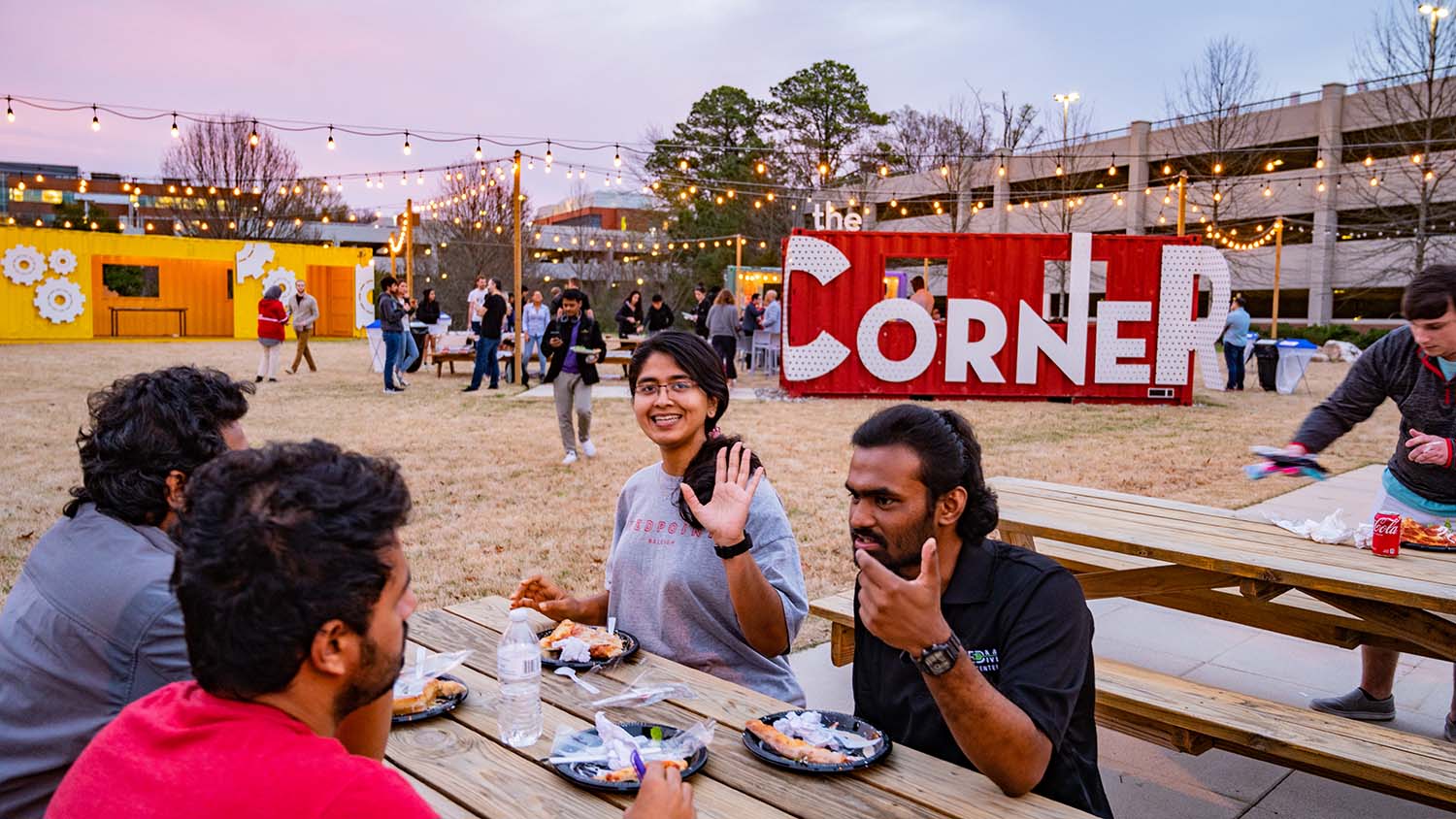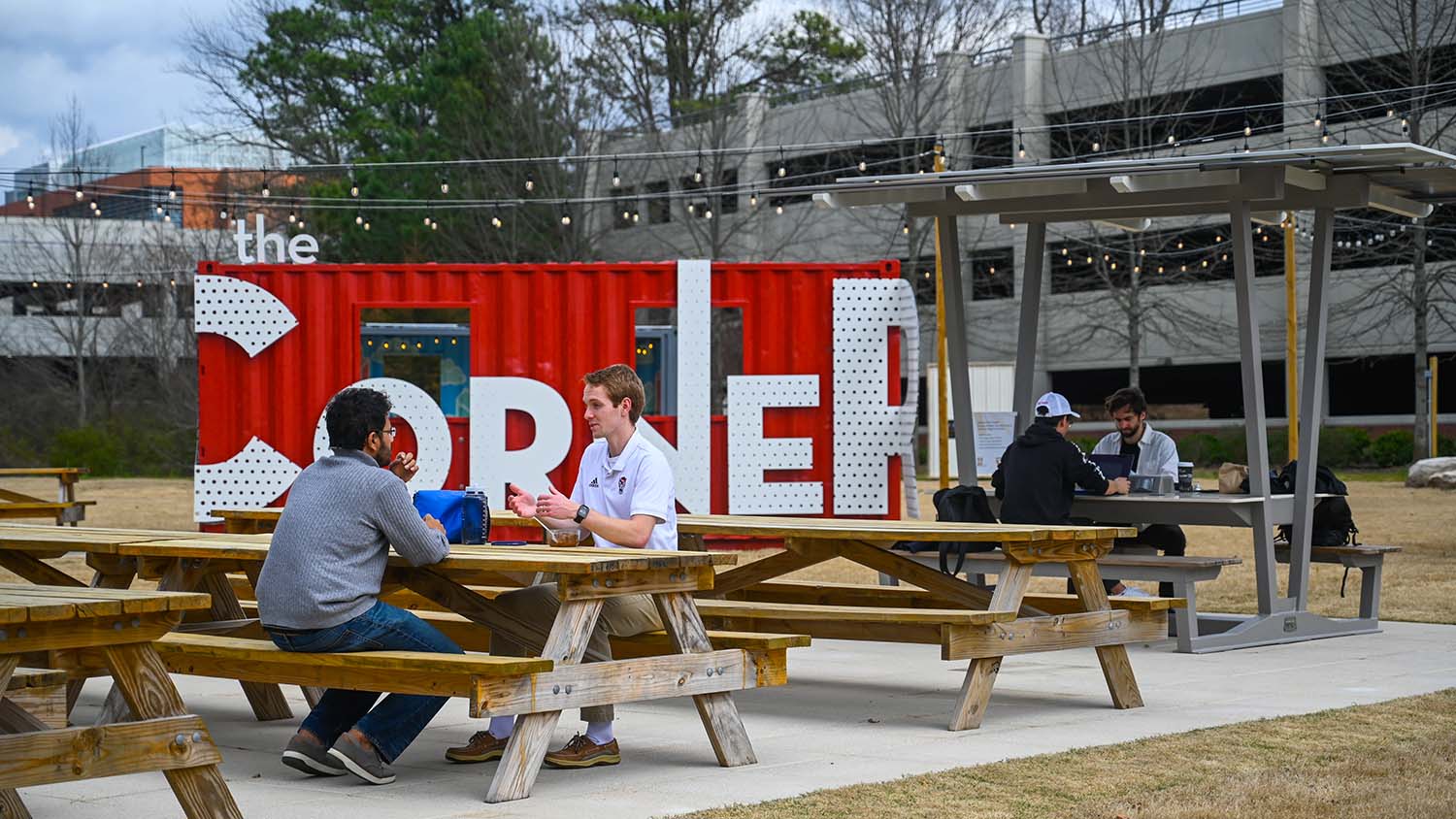 Twinkling string lights transform The Corner into a perfect venue for nighttime functions.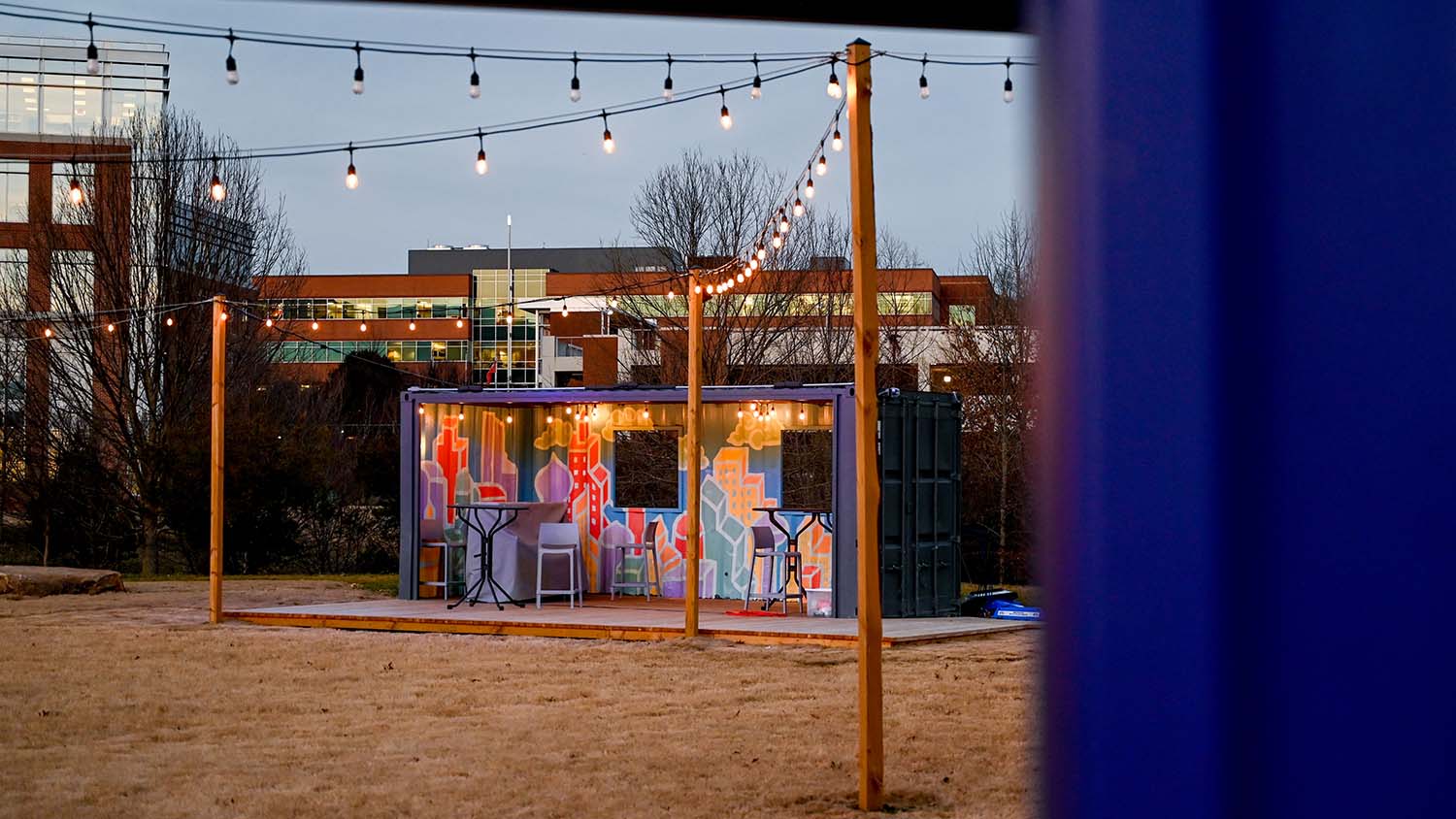 Reserve Space at the Corner
We're fans of spontaneity, so seating in The Corner is generally first come, first served. But if you'd like to reserve some container space — or even the entire lawn — for your next meeting or private event, NC State's Office of Real Estate and Development can help. Submit your request and a team member will get in touch to work out the details.
Who can reserve a space?
Anyone in our campus community — partners and tenants, students, faculty and staff — can make a reservation in The Corner. We advise that you make your request as far in advance as possible, but we can work with you on any timeline.
Which spaces can I reserve?
Currently, you can reserve two areas:
Container 2 is equipped for meetings and fits up to 20 people. You'll find a conference table and ample chairs to suit larger teams, student groups and more. Visitors can reserve the entire container, or just a portion.
The Corner's full space — including the lawn and all four containers — can be reserved for large-scale events, accommodating up to 400 people.